Stream Runtown By Shadaya Ft Waje
Shadaya releases yet another impressive single titled "Runtown" featuring Nigeria's singer Waje. The modernized dance-hall female act gives out the best of her sweet vocals in the song. Released on Oct 20, 2018, the track is a follow-up release after making rounds with "Bad Energy. "
Produced by C-Tea Runtown serves as the official song Shadaya released this year. Shadaya took to the social media to announce the release of her new single  she wrote,
One year later Dear God. I didn't give up on it. I trusted your timing. And with the help of my amazing team and amazing supporters behind me, I'm so honored, so humbled, so blessed, so grateful to have a song that features one of the most talented females that paved the way for African female musicians. A strong, beautiful and amazing woman. Thank you so much from the bottom of my heart for being a part of this. @officialwaje. I'm so excited to be posting this. I can't contain my excitement 🌸🌸🌸🌸How I can't even forget you @cteabeat my boooooo. 😘😘😘😭😭❤️Thank you so much for believing in me. To my Gang-gang gang l love you so much. Thank you for ALWAYS BEING THERE. I can't wait to make it Up to you. @onechubathank you so much for this bomb ass artwork and everything else😍😍☺️☺️☺️🌸🌸🤗🤗 By Grace Through Faith.
Tomorrow out on SoundCloud at 7 pm with all other links to be followed after!.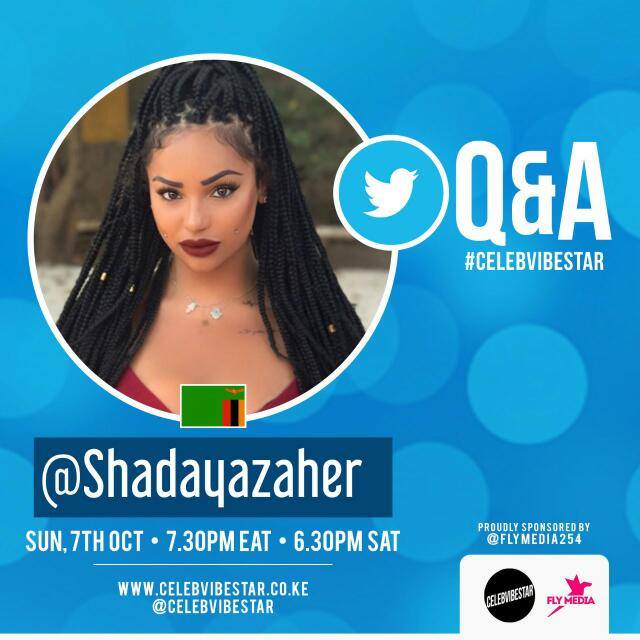 In an exclusive Twitter chat with us, the Zambian singer admitted that had been doing music for the last 5 years
I've been doing music for 5 years minus 2 years because I had a possessive boyfriend that never wanted me to do music. However, lesson learned. I'll never prioritize a man in my life again. https://t.co/lLt9mjhIwa

— African Barbie 🇿🇲 (@Shadayazaher) October 8, 2018
Aituaje Iruobe popularly known as WAJE (an acronym for "Words aren't just enough"), is a Nigerian singer whose vocal range covers three octaves. She participated in the remake of P-Square's "Omoge Mi" and featured as the female voice in the duo's 2008 hit track "Do Me". She was also featured on Banky W's "Thief My Kele" and M.I's "One Naira". In 2016, she was one of the four judges in the inaugural season of The Voice Nigeria.